(PRUnderground) January 13th, 2021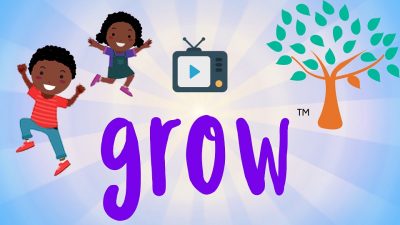 Grow TV is announcing the launch of its online broadcast channel dedicated to programming serving African-American children, as well as African children across the diaspora. Viewers can watch at getgrow.tv, and the channel is also available on Roku and Amazon Fire TV.
The creators describe Grow TV as being aimed towards cultural diversity within children's education and entertainment, or "edutainment." Grow TV's Jesse Jacobs says, "Representation matters, especially for our children, and there are very few educational and entertainment TV shows for children of color in the United States."
Grow TV is launching now so that Black children can build self-esteem and self-worth, a key component of which will come from them seeing positive representations of themselves on television over the course of their lives.
The channel's creators have found that on the continent of Africa, educational programming is very limited as well, and that research indicates Black children both want and need to see reflections of themselves in the shows they watch.
Despite there being so many African-Americans in the population, no one has created a channel specifically dedicated towards African-American children's content," Jacobs says, "And now in particular, when the country is dealing with such racial and political discord, children can clearly see the differences in how Black protestors and white protestors are treated."
Grow TV is looking to create an abundance of programming, in addition promoting equality in the imagery portrayed on children's television. Doing so will build upon the content that already exists sporadically on platforms such as YouTube, as Grow TV will serve as a unified place for audiences to watch African-American children's content. "Most of our children learn from television. We need more educational programming for them."
Grow TV has signed licensing contracts with Sepia Works, to provide Callaloo TV, as well as Inway Studios, to provide Bex Adventures. The company's existing partnerships provide the ability to reach more than 69 million viewers. "Most American households no longer subscribe to cable, but many are electing to subscribe to streaming services such as Roku and Amazon TV," Jacobs says. Grow TV is in the midst of negotiations with additional content providers, and plans to expand its launch to Apple TV once those contracts are solidified, projected on or before March 1, 2021.
Grow TV is currently courting additional partners. "We eventually will be partnering with other smart TV streaming platforms," Jacobs says, "We anticipate in a few short years, Internet tv streaming services will replace traditional television. Now is the time to join us." Content providers interested in partnering with Grow TV can contact the company directly to pitch their offerings.
About Grow TV
The post Grow TV Launches Online Broadcast Channel Dedicated To African-American Children's Programming first appeared on PRUnderground.
Press Contact Name: Jessie Jacobs Phone: 661-494-0400 Email: Contact Us Website: https://www.getgrow.tv/
Original Press Release.